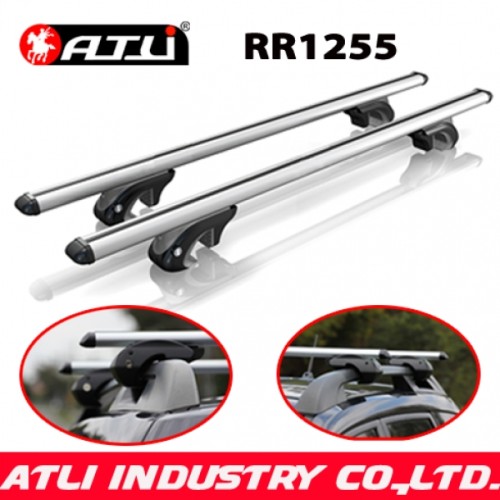 High quality Roof Rack with Rail RR1255
Description
Name: with Rail RR1255
Meas:
4set/carton
123x33x22cm
G.W: 15kgs
N.W:13kgs
An universal roof rack foot for cars with pre-installed roof railings
For Median Sized Cars/SUVs with Raised Rails
---
Aerodynamic cross bars equipped with safety interlock system. Universal carrier for vehicles with roof railing. Will fit following vehicles with factory raised roof rails:
---

FORD
Mondeo 4dr Wagon MB/MC Jul/2009 On
Explorer 4dr Wagon Nov/2001 On

---

HOLDEN
Captiva Oct/2006 On

---

HONDA
CRV Sep/1997-Dec/2001

---

HYUNDAI
Santa Fe Nov/2000 On
Tucson Aug/04-Jan/2010

---

JEEP
KJ Cherokee Sep/2001-Feb/2008
Grand Cherokee WJ-WG Jul/1999-May/2005

---

Kia
Sorento 4dr Feb/2003 - Sep/2009
Carnival 4dr Van

---

Mazda
Mazda6 wagon Aug/2002 on

---

SUBARU
Forester Mar/2008 On
Forester Aug/1997-Jul/2002
Impreza 5dr Hatch XV Jul/2010 On

---

SUZUKI
SX4 hatch Feb/2007 On
Grand Vitara Apr/1998-Aug/2005

---

TOYOTA
Rav4 Jul/2000 On
Prado 120 Series Jan/2001-Nov/2009
Tarago Wagon Jul/2000 to Feb/2006

---

Volkswagon
Golf Wagon Feb/2010 On
Passat Mar/2006 On

---

Will also fit many other median sized cars/SUVs/UTEs with raised roof rails (maximum distance/gap between two rails from inside to inside is approx of 102cm).

---
Product Features
Aluminum Aero Bars. Lightweight and durable


90 kg load-carrying capacity. Tougher than most of the bars available on the market.


Bars are 1200mm long (excluding end caps) to fit small-median sized cars/SUVs with raised roof rails (with maximum of 1020mm distance between the rails from inside to inside).


Aailable in four sizes (1350mm, 1280mm, 1200mm and 1120mm) for better fitting.


Safety lock system with locks included


T-slot channel allows the fitting of many roof accessories from a number of roof rack systems


Simple assembly, no extra tools required.